Republished on PrenticeNet with permission from Historical Society of the Nyacks.
Full newsletter: Volume 7 - Issue 3 - Fall 2012
---
Sartell Prentice
by Gini Stolldorf, Editor (Historical Society of the Nyacks)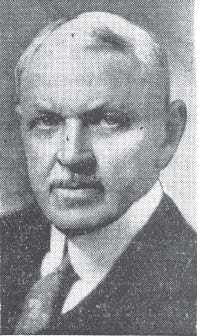 Dr. Sartell Prentice
Sartell Prentice (1867-1937) served as the tenth minister of the First Reformed Church of Nyack, on South Broadway, between Burd and Church Streets. Born in Albany, N.Y., the son of Major and Mrs. Sartell Prentice, Prentice was a descendent of a family that was among the original settlers of Cambridge, Mass., and the founders of Harvard University.
The First Reformed Church's current brick structure was built in 1901 (the earlier structure had become too small for the congregation). Under Prentice's long tenure (1904-1923) the congregation was able to pay off its entire mortgage.
In September 1917, during the First World War, Prentice was granted a four-month leave of absence to work abroad on behalf of the YMCA and mingle with soldiers at the YMCA camps. A second leave from the church was granted in June 1918 to serve as chaplain for the Red Cross in France, first at Base Hospital 101 at St. Nazaire and, later, at Evacuation Hospital 13, behind the Allied lines during the Meuse-Argonne offensive. He wrote about his experience in a book titled, Padre: A Red Cross Chaplain in France, in which he takes the reader through his day-to-day work with the soldiers helping them with simple menial tasks and servicing their souls.
Prentice's congregation at home showed their desire to share in the noble work that their pastor had undertaken by providing him with a small collapsible organ, which he carried around from ward to ward, and with two communion sets, one with 136 cups and the other, a small pocket set that was also easy to carry. He recalled a boy in Ward 19A asking, "I don't suppose it would be possible for me to have communion would it, Padre?" to which Prentice responded, "Why not?"
During his time of serving the soldiers in World War I, Prentice contracted certain influenza germs, diagnosed at the time as NYD (not yet determined), and in January 1919 he was "invalided" home. The influenza germs affected him throughout the rest of his life and caused him to resign his position from the First Reformed Church in 1923. But, before his resignation, Prentice started a nationwide movement called "The Nyack Plan," a nonsectarian back-to-church program based on the idea that the church was "a social and economic asset to the community and as such deserving of the same community support that lay organizations command." The plan was copied by hundreds of communities throughout the United States. On its national Board were representatives from all over the country, such as Victor James Dowling, N.Y. State Supreme Court; Jacob Klinck, V.P. and Trust Officer of Metropolitan Trust Co.; Julius Rosenwald, President of Sears Roebuck & Co.; E. T. George, V.P. Seaboard Refining Co., New Orleans, La.; Harry Chandler, Owner/Publisher of the Los Angeles Times; Ray Lyman Wilbur, President of Stanford University. As a result of this "movement," the Nyack church alone grew its membership by 171 people.
Within the next decade, the idea of sharing the religious experience would take another turn with the construction of Riverside Church in New York City. Riverside was conceived as an interdenominational church admitting people of all faiths and allowing them the forms and customs of their heritage, accepting the principles of religious tolerance and freedom that permit the fullest cooperation with all groups.
Prentice was a student of world events and often gave talks on the world situation and "the responsibilities" that he felt "were laid upon the American people." Besides writing about his experiences with YMCA and the Red Cross, Prentice authored a book titled, Cloud, in which he wrote of the world situation before the war and all the moral issues involved with the war. He believed that America had a supreme responsibility in this world crisis.
Sartell Prentice traveled extensively and was fluent in a number of languages. He was a student of medieval history and the origins of Christianity. He wrote extensively on cathedrals in such books as The Heritage of the Cathedral and Voices of the Cathedral. He attributed his interest in the subject to an experience he had near the towers of Amiens Cathedral, when a tourist asked him, "What is this church? Why are you going in? Is there anything to see?"
The Heritage of the Cathedral is a study of the influence of history and thought on cathedral architecture. Prentice believed that these great European buildings&emdash;St. Chapelle, the Madeleine, and Notre Dame in Paris; St. Ambrogio in Milan; and St. Maria Maggiore in Rome embodied in their magnificent structures the history of the times and also the fascinating stories of man's beliefs, hopes, fears, work, and pleasures.
A brother of Prentice's, [Ezra] Parmelee Prentice, married Alta Rockefeller, a daughter of John D. and Laura Spellman Rockefeller. A son, Pierrepont Isham Prentice, became the circulating manager of Time, Fortune, and Life magazines.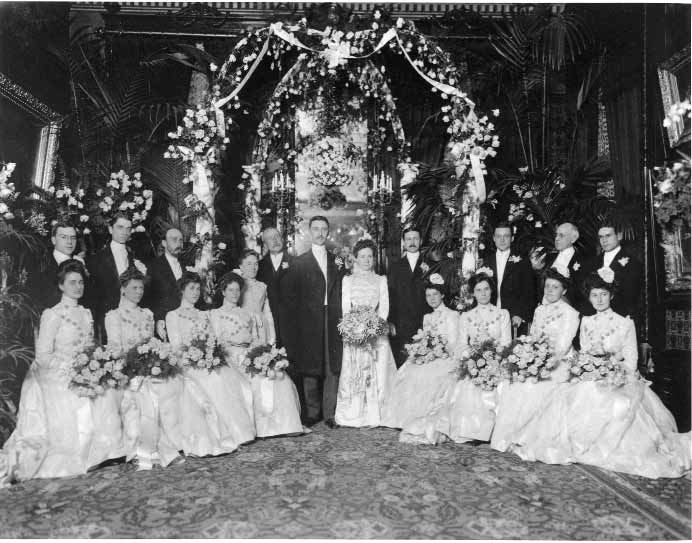 Wedding of Alta Rockefeller and [Ezra] Parmelee Prentice (Sartell's brother), January 17, 1901, Rockefeller home, 4 West 54th Street, NYC. John D. Rockefeller, Jr., first left, back row; Laura Spellman Rockefeller, John D. Rockefeller, fourth and fifth from left, back row; Sartell Prentice, fourth from right, back row.
[pic: Rockefeller Archive Center]
Due to Prentice's service in World War I, one can find his name in Nyack's Memorial Park on the Soldier's and Sailor's Memorial designed by Nyack architect Marshall Emery. The tablet on the memorial bears "the names of men and women of this community who served in the active and auxiliary of our country and her allies during the World War 1914-1918."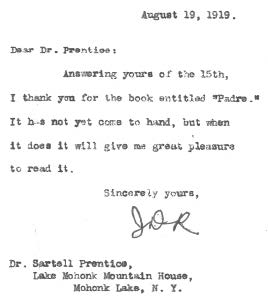 Letter from John D. Rockefeller to Sartell Prentice
---
Some of the books mentioned in this article are available through the inter-library loan system of the Nyack Library.
---
Related topics: