Number: 17
Born: October 5, 1932 Schumacher, Ontario
Position: Left Wing
Shoots: Left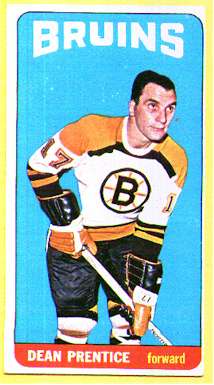 Dean was somewhat of a rarity in the pre-expansion NHL, in that he jumped directly to the NHL, with no minor league experience. His 1378 games in the NHL rank 10th All-Time.
He came to the Bruins in a big trade in February 1963. The Bruins sent Don McKeeney and Dick Meissner to the Rangers to get Dean. He contributed 23 goals in his first full season in Boston, and missed much of the 64-65 season with a shoulder injury. He couldn't but a goal in the 65-66 season, and in February of that 66 he found himself on his way to Detroit in exchange for Ron Murphy.

Career Stats
Season
Team
League
GP
G
A
Pts
Pim
1952-53
NY Rangers
NHL
55
6
3
9
20
1953-54
NY Rangers
NHL
52
4
13
17
18
1954-55
NY Rangers
NHL
70
16
15
31
21
1955-56
NY Rangers
NHL
70
24
18
42
44
1956-57
NY Rangers
NHL
68
19
23
42
38
1957-58
NY Rangers
NHL
38
13
9
22
14
1958-59
NY Rangers
NHL
70
17
33
50
11
1959-60
NY Rangers
NHL
70
32
34
66
43
1960-61
NY Rangers
NHL
56
20
25
45
17
1961-62
NY Rangers
NHL
68
22
38
60
20
1962-63
NY Rangers
NHL
49
13
25
38
18
Boston
NHL
19
6
9
15
4
1963-64
Boston
NHL
70
23
16
39
37
1964-65
Boston
NHL
31
14
19
23
12
1965-66
Boston
NHL
50
7
22
29
10
Detroit
NHL
19
6
9
15
8
1966-67
Detroit
NHL
68
23
22
45
18
1967-68
Detroit
NHL
69
17
38
55
42
1968-69
Detroit
NHL
74
14
20
34
18
1969-70
Pittsburgh
NHL
75
26
25
51
14
1970-71
Pittsburgh
NHL
69
21
17
38
18
1971-72
Minnesota
NHL
71
20
27
47
14
1972-73
Minnesota
NHL
73
26
16
42
22
1973-74
Minnesota
NHL
24
2
3
5
4
NHL Totals
1378
391
469
860
485
BRUIN Totals
170
50
56
106
63
Playoff Totals*
54
13
17
30
38
*No Playoff Totals as a member of the Bruins