Elmer Prentice was born on Feb. 12, 1870, in Hanover Center, NY. He was the son of Napoleon Bonepart Prentice and Harriet Ellen Vallance. The family moved west in 1878 and he chose to remain when his parents returned when he was fourteen. He worked on various cattle ranches in Kansas and Indian Territory, and herded cattle from Texas and back over the old Chisholm trail.
Elmer married Louisa Jane Garringer on March 22, 1893 in Harper County, Kansas. [1] They made a run into the Cherokee Strip[3] and filed on land fourteen miles east of Enid in Garfield county. Later, Elmer was a member of the Cherokee Strip Cowpunchers' Association (formed in 1920). [3] They lived in various places in New York state, Kansas, Oklahoma, and Texas, then in 1906 moved permanently to Fairview, Oklahoma. For three years, between 1902-1905 he worked with the Pawnee Bill[4] show.
Elmer and Louisa had at least 2 children, O.K. Prentice (1899-1958) and Myrtle Ethelyn Prentice (1901-1979).
Elmer died May 3, 1954, aged 84, at his home in Fairview, Oklahoma, after a years illness (see PrenticeNet article Services Held For Elmer Prentice, 84). He was buried at Fairview Cemetery. [5]
Additional family history is available at the Prentice Newsletter article .. Solomon Prentice, Nelson, Portage Co., OH.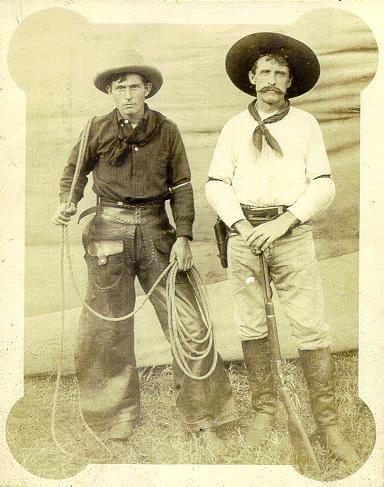 Eddie Botsford (left) and Elmer Prentice, circa 1915
---
Footnotes
[1] (Book B, Page 136). Find-a-Grave
[2] Cherokee Strip
[3] Cherokee Strip Cowpunchers' Association
[4] Pawnee Bill - Wikipedia
[5] Fairview Cemetery, space S 1/2, lot 42, block A. Cemetery Alphabetical Listing - City of Fairview Oklahoma