<<prev | All Items | next>>
Item name:
Appleton Prentiss land sale, 1794
Summary:
Sale of land on Buttolph Street in Boston to Benjamin Bailey.
Description:
Describing the sale of a lot of land on Buttolph Street in Boston, from Appleton Prentiss to Benjamin Bailey, for 62 pounds 10 shillings.

Note that Buttolph St. in 1794 is now Irving St. and the street referred to as "new Street" in the transcription is now S. Russell St. The plot of land extends from Buttolph St. through the block to the "new" street.

Massachusetts Historical Society, 1798 map

Google map showing approximate current location

Thanks to Ian Prentice for the transcription!

Date:
1794-07-23
Location:
US, MA, Boston
Collections:
Legal documents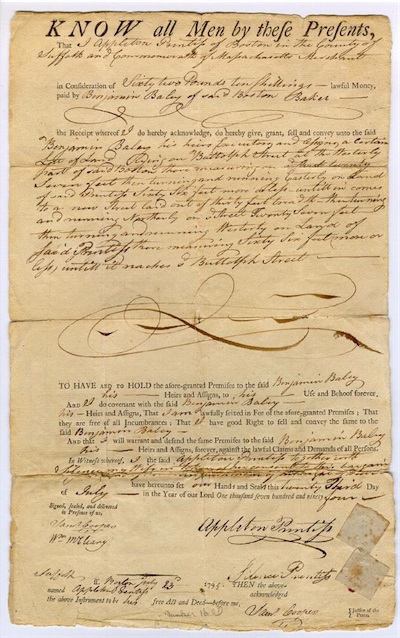 Transcription:

KNOW all Men by these Presents, 

That I Appleton Prentiss of Boston in the County of 
Suffolk and Commonwealth of Massachusetts Merchant

in Consideration of Sixty-two Pounds ten Shillings - lawful Money,
paid by Benjamin Baley of said Boston Baker -

the Receipt whereof I do hereby acknowledge, do hereby give, grant, sell and convey unto the said 

Benjamin Baley his heirs, Executors, and Assigns a certain 
Lott of Land lying on Buttolph Street at the Westerly 
part of said Boston there ?measuring? on said Street twenty
seven feet then turning and running Easterly on land 
of said Prentiss Sixty feet more or less until it comes 
to a new Street laid out of thirty feet breadth - then turning 
and running Northerly on said Street Twenty Seven feet -
then turning and running Westerly on Land of 
said Prentiss there measuring Sixty Six feet (more or 
less) until it reaches said Buttolph Street.

TO HAVE and to HOLD the afore-granted Premises to the said Benjamin Baley
his --- Heirs and Assigns to his --- Use and Behoof forever.

  And I do covenant with the said Benjamin Baley --- 
his --- Heirs and Assigns that I am lawfully seized in Fee of the afore-granted Premises; That 
they are free of Incumbrances; That I have good Right to sell and convey the same to the 
said Benjamin Baley ---

  And that I will warrant and defend the same Premises to the said Benjamin Baley 
his --- Heirs and Assigns, forever, against the lawful Claims and Demands of all Persons.

  In Witness whereof, I the said Appleton Prentiss together with 
Silence my Wife in token of her consent to this ?bargain?
[*** damaged at fold ***]

      have hereunto set our hands and seals this Twenty Third Day 
of July --- in the Year of our Lord One thousand seven hundred and ninety four ---

Signed, sealed, and delivered		
 in Presence of us, 		

  James Cooper                       Appleton Prentiss  [seal]
  Wm McLeary
                                     Silence Prentiss  [seal]
Sufolk
      s. Boston July 23d --- 1794   THEN the above-
                                       acknowledged 
  named Appleton Prentiss ----
  the above Instrument to be his free Act and Deed--before me,  James Cooper  / Justice of the
                                                                              \   Peace.

Supporting members have access to high-resolution images of items in the Prentice Museum. For more information visit the Support PrenticeNet page.