---
Dave Prentice's
Home Page
Focusing on
Capt. Thomas Prentice
("The Trooper"),
Lt. Jesse Prentice,
Sgt. Martin Dewitt Prentice,
and their
Descendants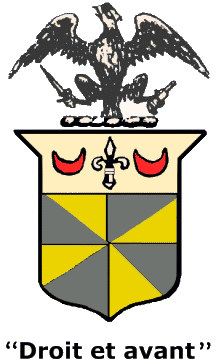 ---
Under Construction - Last Updated 8/17/00.
Capt. Thomas Prentice (the Trooper) 1621 - 7/6/1710 brief biography
Click Here to find out about early relatives (Prentices and other surnames)
and connections such as John Eliot, the "Apostle to the Indians"
m. Grace Bull d. 10/9/1692
neither set of parents known
5 children: Grace, Thomas Jr., Elizabeth, Mary, John
Thomas Prentice Jr. 1/22/1649 - 4/19/1685 brief bio of Thomas, Sarah, & her parents
m. Sarah Stanton 1655 - 1713, dtr of Thomas Stanton & Ann Lord
4 children: Thomas, Grace, Samuel Sr., John
Samuel Prentice Sr. 1680 - 4/24/1728
m. Esther Hammond, dtr of Nathaniel Hammond & Mary _____
brief bio of Esther & her parents - oldest documented branch of the family so far
10 children: Samuel Jr., Joseph, Grace, Mary, Jonas, Esther, Oliver, Eunice,
Thomas, Dorothy
Deacon Samuel Prentice Jr. 11/25/1702 - 10/11/1773 brief bio of Samuel, Abigail, & her ancestry
m. Abigail Billings 3/1/1707 - 10/30/1789, dtr of Ebenezer Billings & Phoebe Lay Denison
13 children: Dorothy, Samuel, Ebenezer, John, Abigal, Joshua, Phoebe, Asa, Jonas,
Jesse, Esther, Amos, Grace
Lt. Jesse Prentice (Revolutionary War) 1/24/1743 - 1811 brief bio of Jesse and Elizabeth
m. Elizabeth Belcher 3/12/1756 - 8/10/1844, dtr of Moses Belcher & Esther Rudd
4 children: Joseph, Fanny, Alfred Belcher, Jesse Jr.
Alfred Belcher Prentice 12/11/1798 - 1881
m. 1st Catharine Huff Simons 4/10/1802 - 11/21/1839, dtr of Uriah Simons & Olive Tucker
7 children: Martin Dewitt, Frederick Delos, Franklin, Elizabeth, Olive, Mary Louise,
Joseph
m. 2nd Laura Lucretia Goodspeed 4/25/1804 - 10/11/1888
3 children: Irving Belcher, Ellen Imogene, William Goodspeed
Sgt. Martin Dewitt Prentice 5/3/1830 - 8/8/1917
Moved from midstate N.Y. to Colorado for the 1859 Gold Rush, served in 2nd Colorado
Cavalry during the Civil War - lots of details coming soon for Civil War buffs
m. Mary Ann Lewis 12/10/1839 - 12/17/1929, dtr of William Lewis & Honora Mailey of Boston
She was first married to William Laurie, who was murdered in her arms during
Quantrill's infamous Civil War raid on Lawrence, Kansas 8/21/1863 as she held
their 2 year old son Walter William Laurie.
Martin raised Walter as his stepson and had 3 children by Mary Ann: Julian E., Chester L.,
and Irving Elba, ancestor of the New Orleans branch of the family.
Irving Elba Prentice 3/6/1878 - 2/1942
m. Cecilia Cullom 6/24/1887 - 12/14/1969, dtr of Peter Cullom & Mary Williamson
8 children: Irving John Sr., Julian Cullom, Ruth Cecelia, George Dewitt,
William Edward Sr., Mary Alice, Chester "Mike," Raymond Louis
William Edward Prentice Sr. b. 10/29/1918
m. 1st Celia Leonora Bermudez b. 6/12/1928, native of Honduras, dtr of Ruben Bermudez
Mesa and Ada Maria Navas
2 children: William Edward Jr. and David Andrew
m. 2nd Rose Canal Hart
me (David Andrew Prentice) b. 10/24/1952
m. 1st Charlotte Mary Metzger, b. 7/31/1954, dtr of Joseph Metzger & Eloise Barrett
2 children: Linda Michelle and Michelle Maureen
m. 2nd Nancy Hope Runion b. 7/24/1947
2 stepchildren: Bonnie Jean Gordon and Scott Walker Gordon
Linda Michelle Prentice b. 7/2/1973
Michelle Maureen Prentice b. 7/29/1977
---
Back to Roots at Prenticenet


email: prentice@instruction.com